CELEBRATION OF THE 1st ODF PLUS MODEL DISTRICT IN MIZORAM: MAMIT DISTRICT
Vawiin (Date: 29th Sept. 2023) khan Chhimveng YMA Hall, Mamit ah 1st ODF Plus Model District in Mizoram: Mamit District lawmna neih a ni.
Dar 12:00pm ah programme tan a ni a, Pu V.L Remliana, Deputy Commissioner, Mamit District chu Chairman niin, Pu Tawnluia, Honble Deputy Chief Minister chu Chief Guest a ni bawk a ni. Rev. C. Laltharzuala, PCI chuan hunserh a hmang a, hunserh hman zawh a nih hnu hian Lungsir Branch YMA Zaipawl hnen atangin "Aw Nang kan Lal kan Pathian" tih hla mawi taka an rem kan ngaithla bawk a ni.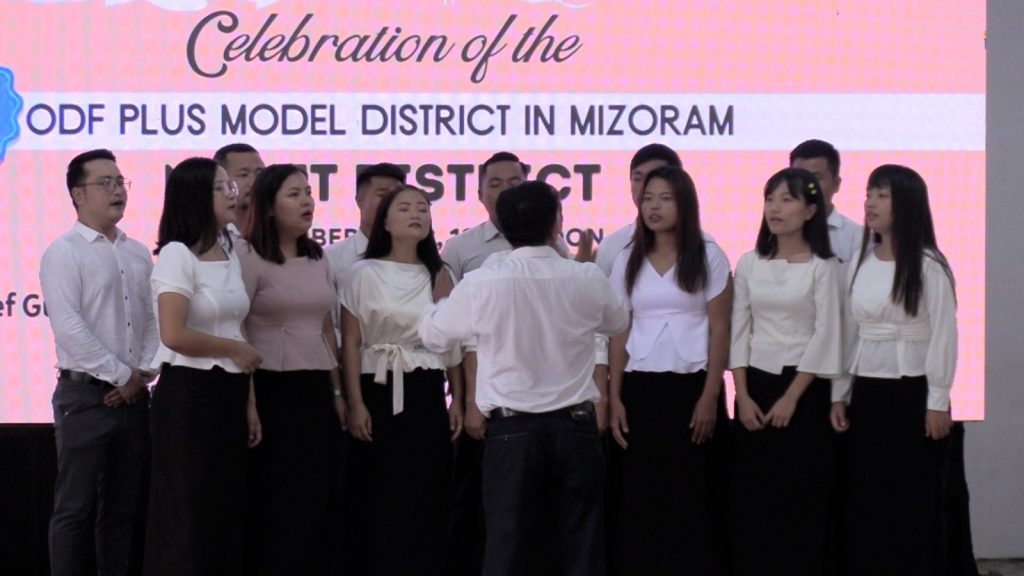 Chairman hnen atangin Welcome Speech ngaihthlak chhunzawm a ni. Programme ah hian thusawi mi pali Chief Guest, Er. C. Lalremsiama, Secretary, PHED, TV. Lalropuia, President, Mamit District V.C Association leh Pu Lalngilneia, Chairman, Lallen WATSAN Committee te hnen atangin ngaihthlak a ni a, soloist mi pathum Tv. RL-a Colney, D.J Lalvenhimi leh Melody Vaiphei te hnen atangin zai mawi tak ngaihthlak a ni bawk a ni.
Er. Helen Saibuangi, Executive Engineer, Mamit WATSAN Division hnen atangin Technical Reports ngaihthlak a ni a, hemi rual hian Documentary film (Success Story of Lallen, Dampui & Bungthuam Village) display nghal bawk a ni.
Lalduhsangi, District Coordinator, SBM-G chuan Mamit District chhunga khaw tin WATSAN te hnenah Citation leh lawmman hlanna a nei a, hei bakah hian faina lama hma la tha zual khaw pathum Lallen, Dampui leh Bungthuam khua te hnenah Special Award hlan a ni bawk a ni.
Er. H. Lalduhkima, Director, PMU, PHED hnen atangin Vote of Thanks leh Closing remarks kan ngaihthlak zawh hnuin programme khar a ni.
Tlai lamah ruai buatsaih a ni a, khaw hrang hrang WATSAN hruaitu lo kal te leh thawktu te leh sawm bik ten ruai hi an kil a ni.