National Short Film Competition – Swachhata Filmon ka Amrit Mahotsav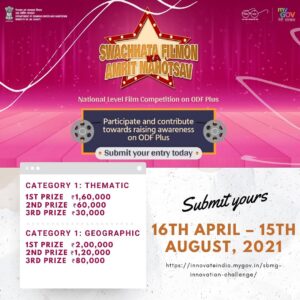 Department of Drinking Water and Sanitation, Ministry of Jal Shakti, Government of India chuan Swachh Bharat Mission Grameen (SBMG) Phase 2 hnuaiah National short film (1 to 5 minutes) competiton "Swachhata Filmon ka Amrit Mahotsav" a buatsaih a, heta tel tur hian  India khua leh tui tu pawh a sawm  a ni.
Department chuan Open Defecation Free India, SBMG Phase 1 kaltlanga India ram a lo thlenpui tawh chu vawn nun a, ek-in him thingtlang khuaa hman chhunzawm reng a nih bakah, bawlhhlawh sakhat leh tuiril felfai tak a sawngbawl leh tihral a nih theihna'n a hmalak a tum ber a ni.
He Intihsiaknain kaltlang hian Information, Education and Communication (IEC) campaign neih a, ODF Plus, SBMG Phase 2 thiltum awareness neih tum a ni. Mimal leh pawl anga telin, ODF Plus component hrang hrang behchhana video tawi (1-5 mins) siam tur a ni.
He Competition ah hian India  mi (Kum 10 aia upa) mimal angina emaw pawl angina emaw a tel theih a ni a, pakhat aia tam pawh a thehluh theih a ni.
A film rei chhung hi minute 1 aia tawi lo leh minute nga aia sei loa siam tur a ni a. Mizo tawng/local dialect a siam theih a ni a, a theih chuan subtitle dah tel ni se.
https://innovateindia.mygov.in/sbmg-innovation-challenge/ portal ah hian a kim changin tarlan a ni.
August ni 15, 2021 aia tlai lo ah theh luh tur a ni.
Video te hi thlingtlang khaw bechchhana VC hriatpuina a siam tur  a ni.
Mobile phone hmang pawhin siam phal a ni.
He competition ah hian category hnih ah then a ni a, heta tan hian lawmman pawh a hrang a siam a ni;
Category – I(Thematic)
Category – II(Geographic)
 First Prize
Rs 1,60,000/-
 First Prize
Rs 2,00,000/-
First Runner Up prize:
Rs 60,000/-
First Runner Up prize:
Rs 1,20,000/-
Second Runner Up prize:
Rs 30,000/-
Second Runner Up prize:
Rs 80,000/-
Film siamna tur Category – I theme hrang hrangte chu;
1) Biodegradable waste management –Bawlhhlawh tawihthei chi sawngbawl dan .
2) Plastic waste management –Plastic bawlhhhlawh sawngbawl dan.
3) Grey water management – Choka/Bualin thli sawngbawl dan.
4) Behavioural change :- Thianghlimna  leh faina  kawnga mipui rilru sukthlek her danglam dan tur.
5) GOBARdhan :- Bawngek hmanga gas siamchhuah.
6) Faecal sludge Management :- Ek thli sawngbawl dan.
Film siamna tur Category – II theme hrang hrangte;
Hengte hi a ram mil (Geaographic area) a, Faina leh thianghlimna lam a hmasawnna tur  technology/chin dan tha hrang hrang awm theite tarlanna message (swachhata message) a ni tur a ni. Video pakhat hian ram leilung pakhat a hnuai a mi eng emaw ber a keng tel tur a ni a.
Desert Area
Plain area
Hilly areas
Coastal areas
Flood prone areas
Submit dan tur chu: Instagram page – @sbmg.mizoram ah en theih a ni.
 NB: Hrechiang leh zawhbelh duh nei tan Mobile No :08119933945 ah hian zawhfiah theih a ni